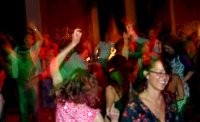 Last night I went to Funky Seomra it was awesome! I found out about it through twitter- a few weeks ago I came across a friendly person called @funkyseomra and when I looked at his website I was really excited- an alcohol & drug free dance club in Dublin Wooo Hooo!! 
I LOVE dancing, but when I made a decision that my life was better without alcohol back when I was 21 I was dissmayed at the lack of acohol free entertainment venues that were available.  I still go out dancing to clubs,  and enjoy dancing, but getting drink spilt on me on the dance floor is not my idea of fun!  So when I heard about Funky Seomra I was delighted- over a decade after I'd wished for a dance free venue here it was :)
I wasn't quite sure what to expect I met a friend for dinner before hand and both of us discussed what to wear- neither quite sure of what the "norm" of a venue like this was.  I'd already decided on jeans but had a last minute change of plans when i changed my top.
On arrival at the RDS we were greeted with a smile & with free sweets & cloakroom!!  3 things I've never seen in a "normal" venue!  (btw I LOVE jelly babies!)
The atmosphere was really nice- relaxed- friendly-free!  Giant Budda Bags were strewn around the foyer and Shiatsui massages were available for €10!  We bumped into some people & chatted before finding our way onto the dance floor!
It was awesome- there was SPACE to dance!!  The room was vibrant & energised- plenty of atmosphere but we weren't packed in like sardines! That gets a HUGE thumbs up from me!  We jived & funked and danced and bounced the giant balloons above our heads until we needed a break to catch our breaths.
When resting we discovered games!  Childhood games! Fun games!  There was operation, Jenga, and Buckaroo to name but a few.  I played Connect 4 while the beat of the music vibrated through my body & loved every second of it!
We soon headed back to the dance floor and that's pretty much where I stayed until the end of the night.  The last dance spontaneously saw the dance floor turn into a spinning merry go round- everyone dancing around the floor in the same direction!  It was beautiful :)  I skirted round the edges and danced free form, as is my want & I even managed to throw in a few cartwheels in too for good measure!  (Cartwheels always make me feel great to be alive!)
Sincere heartfel thanks to David Mooney for orgnanising this event- there was such an accepting atmosphere which gave people the freedom to express themselves through dance without fear of judgement or ridicule- no need for alcohol to calm the nerves in this venue :)
To be happy in life we need to find the things that make our heart sing, and I am delighted to say I've discovered another one of those :)
What fun activity do you have in your life that makes your heart sing?